Today's Proverbs of the Day in English
Proverbs of the Day in English
The eagle does not catch flies.
- Proverbs of the Day in English
Little enemies and little wounds are not to be despised.
German
Blind is the bookless man.
- English
Time destroys all things.
Nigerian
Seeing is better than hearing.
Nigerian
Spanish Proverbs

List
Home is where the heart is.
A great leap gives a great shake.
He cannot find water in the sea.
Every man is a fool in some man's opinion.
Better joy in a cottage than sorrow in a palace.
Sayings of the Day
Every one feels the cold according as he is clad.
Come fish, come frog, all goes into the basket.
Every one stretches his legs according to the length of his coverlet.
He that neglects time, time will neglect.
A blind man's wife needs no paint.
An apple a day keeps the doctor away.
Children and fools speak the truth.
Cleaning a blot with blotted fingers maketh a greater.
American Proverbs List
A deaf husband and a blind wife are always a happy couple.
- American Proverbs of the Day in English
A fair face may hide a foul heart.
A fool is like other men as long as he is silent.
Company in distress makes trouble less.
A harvest of peace is produced from a seed of contentment.
Dirt is dirtiest upon clean white linen.
Do not put your foot further than you can draw it back again.
Earnest effort leads some to success.
Bulls make money and bears make money, but hogs just get slaughtered.
Fools need advice most, but wise men only are the better for it.
Make a garden or plant, and a man is happy for life.
Forgive and regret much later.
Discouragement is the devil's most valuable tool.
African Proverbs List
He on whose head we would break a coconut never stands still.
An endless war shames even a hero.
A chameleon can only change its colour but never change its skin.
Today's  Pharase
A boy may cry; but a man as to conceal his pain.
A butterfly thinks itself a bird because it can fly.
A good plan today is better than a perfect plan tomorrow.
He who defects on the way finds flies on his way back.
A cutting word is worse than a bowstring, a cut may heal, but the cut of the tongue does not.
Knowledge is better than wealth, you have to look after wealth, but knowledge looks after you.
A single slip may cause lasting injury.
Even if thin, the elephant remains the king of the forest.
When a slippery ground lies ahead do not laugh at those who have fallen.
He who knows that he has enough is rich.
Even if you dance for you enemy on the rock, he will accuse you of splashing water on him.
Chinese Phrase
A single tree cannot make a forest.
Even the most beautiful morning cannot bring back the evening.
- Chinese Pharase
Do not believe that you will reach your destination without leaving the shore.
Dream of a funeral and you hear of a marriage.
Diligence is the vehicle on the paths of Mountains of Books; endurance is the vessel on the courses of the Seas of Learning.
He who goes his own way does not deserve being received.
Even ugly faces are worth looking at -- and that is a great comfort for most people.
Better to light a candle, than to curse the darkness.
French Sayings
Sickness comes in like a horse and leaves like a snail.
Everyone blames his memory, but never his judgement.
Dress slowly when you are in a hurry.
Diamond cut diamond.
A woman conceals only what she does not know.
Don't show your teeth if you can't bite.
He had need rise early who would please everybody.
Desperate maladies require desperate remedies.
Everything goes by favour and cousinship.
Italian Sayings
Every dog is a lion at home.
A little spark kindles a great fire.
A drunk man's words are a sober man's thoughts.
A good beginning makes a good ending.
Bad is the sack that will not bear patching.
Measure three times and cut once.
Every one knows best where the shoe pinches him.
- Italian Sayings
He is rich who owes nothing.
Dutch Phrase
Better alone than in bad company.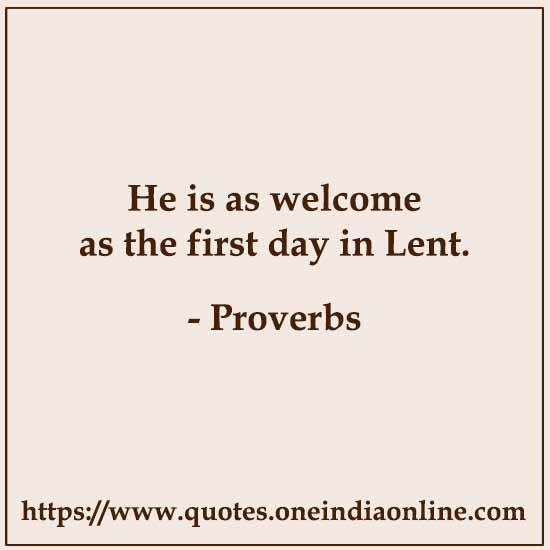 He is as welcome as the first day in Lent.
Good tree, good fruit.
All are not friends who smile on you.
A good friend is better than silver and gold.
Every man his own is not too much.
Better a bird in the hand than ten in the air.
Danish Sayings List
Human blood is all of one colour.
Better in an old carriage than in a new ship.
From children and drunks will you hear the truth.
Every one sees his smart coat, no one sees his shrunken belly.
Great men's requests are commands.
Food tastes best when you eat it with your own spoon.
Latin Proverb List
The eagle does not catch flies.
A wise man will make more opportunities than he finds.
All clouds are not rain clouds.
Dry bread at home is better than roast meat abroad.
Russian Sayings List
The rich would have to eat money if the poor did not provide food.
There is no honor when there is nothing to eat.
When money speaks the truth is silent.
A good neighbour is better than many bad kinsmen.
- Hungarian
Making the beginning is one third of the work.
Irish
Every dog is a tiger in his own street.
Indian
A silent mouth never did any harm.
Irish
English Proverb
He begins to die that quits his desires.
Danger and delight grow on one stalk.
Good company on the road is the shortest cut.
Deeds are fruits, words are leaves.
Cherry blossoms in the recesses of a mountain.
Japanese
One joy can drive away a hundred sorrows.
Japanese
Soft words and hard arguments.
Portuguese
Quick Links